AOL Buys Sphere; Pays Less Than $400 PCP

By: Andy Beal
2008-04-16

How would you like to create a blog widget and then sell it less than three years later for $25 million? Ah yes, the dream of all internet...

... marketers. Well, Sphere"the creator of the Sphere Related Content Widget"was just acquired by AOL for a rumored $25 million. At this point, youre probably asking yourself one of two questions (maybe both):

1. Ive never heard of Sphere, what does it do?
2. What does AOL want with Sphere?

That first question is easy to answer. Youve probably seen Sphere in action, but perhaps never paid much attention to it. Heres how the company describes itself:

"Sphere connects your current articles to contextually relevant content from your archives as well as from Blog Posts, Media Articles, Video, Photos, and Ads from across the Web."

Among its 69,000+ content partners youll find the WSJ, Reuters, Time, and TechCrunch.

Still not ringing a bell. OK, your last reminder is a screenshot of Spheres widget in action: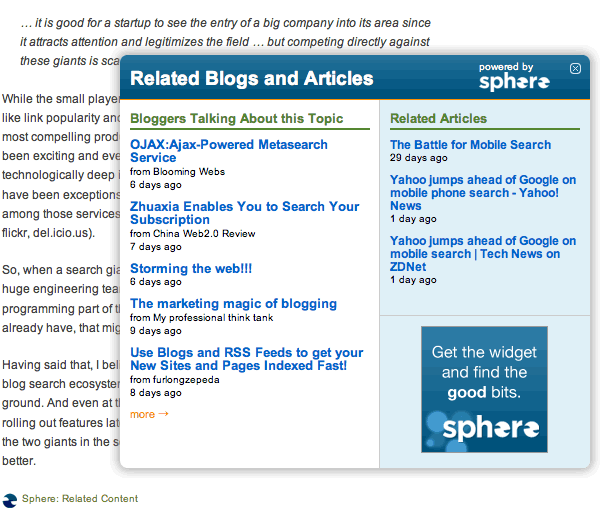 OK, so now the light bulbs come on, lets move on to the next question. What does AOL want with Sphere?

Well, to answer that question, we turn to AOL for an explanation:

Our focus at AOL is providing consumers relevant content wherever they are on the Web, and Spheres capabilities fit in perfectly with this effort. Not only will it let us enhance content on our own sites, it will let us distribute our content across Spheres growing third-party publisher network, said Ron Grant, President and COO of AOL. In addition, this acquisition provides AOL with access to advertising inventory across Spheres network, while growing its reach to content publishers via the widget.

Some quick math suggests that AOLs just picked up close to 70k publishing partners for less than $400 each! AOLs content on the WSJ and TechCrunch for $400? Bargain!

Of course, the real question is just how often do people click on the Sphere related content links? I know I did once"just out of curiosity"but havent clicked on one since. So how many engaged readers, AOL is going to get its content in front of, is a mystery"at least to those of us outside of the deal"but at $400 a site, its pocket change for AOL.

Comments

Tag: Sphere, widgets

Add to

Del.icio.us |

Digg |

Reddit |

Furl
---
About the Author:
Andy Beal is an internet marketing consultant and considered one of the world's most respected and interactive search engine marketing experts. Andy has worked with many Fortune 1000 companies such as Motorola, CitiFinancial, Lowes, Alaska Air, DeWALT, NBC and Experian.

You can read his internet marketing blog at Marketing Pilgrim and reach him at [email protected].
---
---