Should We Expect A YouTube IPO?

By: Andy Beal
2006-09-06

Blogging Stocks is of the opinion that we may soon see a YouTube IPO. While the company is only 2-years old and not making a ton of money...

...other recent events suggest the company may be getting ready to go public.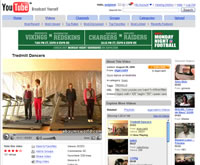 Link: opinion

Over the weekend the Wall Street Journal reported that YouTube hired Yahoo's Treasurer, Gideon Yu, to take the role as the CFO. No doubt this is a critical role for a high-flier IPO.

In fact, over the past few months, YouTube has been staging a talent raid of Yahoo. The company hired away such names as Rob Solomon, Yahoo's vice president of online shopping, and Tony Nethercutt, Yahoo's National Sales Director.

I definitely think YouTube has enough momentum and buzz to consider an IPO, then again, so did Vonage. ;-)

Tag: YouTube

View All Articles by Andy Beal




---
About the Author:
Andy Beal is an internet marketing consultant and considered one of the world's most respected and interactive search engine marketing experts. Andy has worked with many Fortune 1000 companies such as Motorola, CitiFinancial, Lowes, Alaska Air, DeWALT, NBC and Experian.

You can read his internet marketing blog at Marketing Pilgrim and reach him at [email protected].
---
Dow
13522.02
-366.94
(-2.71%)
Nasdaq
2725.16
-74.15
(-2.72%)
S&P 500
1500.63
-39.45
(-2.63%)
---