Paypal Cart Icon On Yahoo Search Ads

By: Andrew Goodman
2006-09-12

Not sure what to make of this! Google shows their Google Checkout item next to the ads of participating retailers, so Yahoo starts doing that

...in concert with Paypal? Google promotes Google, so Yahoo decides to be best friends with eBay? Oh, the permutations.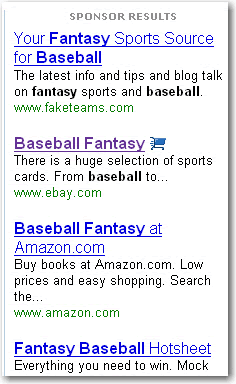 Tag: PayPal

Add to

Del.icio.us |

Digg |

Yahoo! My Web |

Furl
View All Articles by Andrew Goodman
---
About the Author:
Andrew Goodman is Principal of Page Zero Media, a marketing consultancy which focuses on maximizing clients' paid search marketing campaigns.

In 1999 Andrew co-founded Traffick.com, an acclaimed "guide to portals" which foresaw the rise of trends such as paid search and semantic analysis.
---