Facebook Now Open To All

By: Andy Beal
2006-09-27

With all the recent buzz surrounding Facebook's apparent talks with Yahoo, there's been a lot to read about the social networkig site recently.

Link: recent buzz

To me, I've always credited Facebook's success to the fact that it's an ultra cool space that is the exclusive ground of those in high school or college. After all, who wants to hang out in the same places 40+ year-olds do?

Now it seems Facebook is willing to risk that exclusivity in favor of more users and, likely, a higher valuation, by opening up the site to anyone and everyone.

It will either be the smartest move they make, or the worst one. Time will tell.

Via Sid.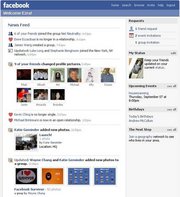 View All Articles by Andy Beal
---
About the Author:
Andy Beal is an internet marketing consultant and considered one of the world's most respected and interactive search engine marketing experts. Andy has worked with many Fortune 1000 companies such as Motorola, CitiFinancial, Lowes, Alaska Air, DeWALT, NBC and Experian.

You can read his internet marketing blog at Marketing Pilgrim and reach him at [email protected].
---
Dow
13566.97
44.95
(0.33%)
Nasdaq
2753.93
0.00
(0.00%)
S&P 500
1506.33
0.00
(0.00%)
---