Facebook Recovers From Declining Traffic

By: Andy Beal
2006-11-10

We recently ran a poll on whether Facebook.com should take the money and run, after reports its traffic had started to decline.

Link:a poll on whether Facebook.com should take the money

63% of Pilgrims believed (me included) CEO Mark Zuckerberg should take sell the company now, lest the value reduce even further.

What the heck do we know!?!

Hitwise has stats that show Facebook's decline in traffic was just a seasonal blip, which happens each September as college kids focus on their return to school. As the chart below demonstrates, Facebook is as healthy as ever.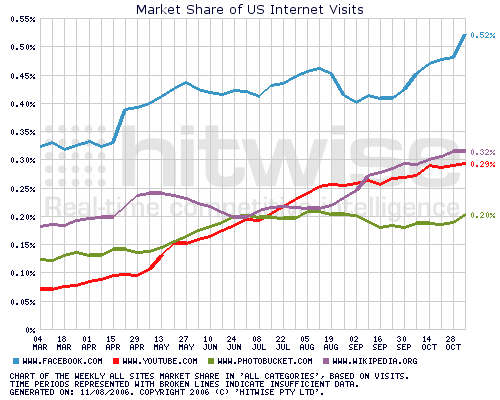 Hat's off to Zuckerberg - he wins this round of brinkmanship!

Comment

Tag: Facebook

Add to

Del.icio.us |

Digg |

Furl
View All Articles by Andy Beal
---
About the Author:
Andy Beal is an internet marketing consultant and considered one of the world's most respected and interactive search engine marketing experts. Andy has worked with many Fortune 1000 companies such as Motorola, CitiFinancial, Lowes, Alaska Air, DeWALT, NBC and Experian.

You can read his internet marketing blog at Marketing Pilgrim and reach him at [email protected].
---
Dow
13522.02
-366.94
(-2.71%)
Nasdaq
2725.16
-74.15
(-2.72%)
S&P 500
1500.63
-39.45
(-2.63%)
---