Apple Freed From Option Backdating Lawsuit

By: David Utter
2007-11-16

Apple received an early holiday present as its request for dismissal of a suit against CEO Steve Jobs and other company executives earned a California judge's approval.


---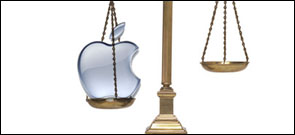 Not only is the real Jobs probably happy about the news, but the Fake Steve Jobs already weighed in with his approval.

Apple's dramatic return to power in the technology industry, fueled by its efforts in the consumer electronics field like the iPod and the iPhone, only suffered from the ongoing options investigation.

Now that Bloomberg has reported on the lawsuit's dismissal, the company should be able to add to its impressive run back to prominence.

Bloomberg cited presiding US District Judge Jeremy Fogel's decision, leading to the favorable decision for Apple:

"While the subsequent disclosure that the options were backdated might require a restatement, without a discernible drop in the stock price there is no basis upon which to establish an injury to shareholders,'' Fogel wrote in his opinion.

Apple has gained more than 95 percent in the past year, adding $80.25 to its stock price in the period. Shares of Apple opened on November 16th at $165.49.


---
About the Author:
David Utter is a staff writer for InternetFinancialNews and WebProNews covering technology and business.
---
---