Halo Reach Brings In $200 Million On First Day

By: Mike Sachoff
2010-09-17

Microsoft has announced its new video game Halo: Reach has generated up to $200 million in global sales on its first day of availability.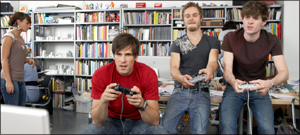 We feel really good about where the 'Halo: Reach' numbers are, Phil Spencer, vice president of Microsoft Game Studios, told Reuters.

"What 'Halo: Reach' numbers tell me is gamers are there. They are willing to buy the great experiences when they come out, said Spencer.

In fact, that we are exceeding 'Halo 3' numbers out of the gate tells me that the industry is in a healthy state."

Spencer noted the $200 million figure made Reach the biggest launch of any game or movie this year. Halo 3 pulled in more than $300 million worldwide in its first week.

The "Halo" franchise has sold more than 34 million copies in its nine-year history, boosting the popularity of Microsoft's Xbox console.

The series has grossed nearly $2 billion in sales over its lifetime. The game is made by Bungie and Microsoft owns the rights to the franchise.



---
About the Author:
Mike is a staff writer for WebProNews. Visit WebProNews for the latest ebusiness news.
---
---