Robert W. Baird Sets $410 Price Target On Apple
By: Doug Caverly
2010-11-05

Whatever Apple's stock does (or doesn't do) today, Apple investors have reason to be optimistic about the future. Financial services firm Robert W. Baird has initiated coverage of Apple with an "outperform" rating and a $410 price target.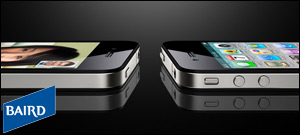 Obviously, the "outperform" rating acts as a complement. No shareholder should be disappointed to hear that an expert believes the company will fare better than just about everything else on the Nasdaq.

The $410 price target is the real treat for investors, though, as it's one of the highest anyone credible has established in relation to Apple. Jon C. Ogg noted, "The average analyst price target objective from Thomson Reuters is roughly $363.00. Baird expects roughly double the upside compared to the overall analyst pack."

Or, if you'd like to look at it another way, Baird expects Apple to rise about 28.9 percent compared to its current price of $318.25.

So again, Apple investors should be pretty pleased, even if Apple doesn't start to demonstrate hockey-stick growth today or next week. (And we should note that the entire market is rather flat as of this writing.)

Here are links to Robert W. Baird's official site and Wikipedia entry if you'd like to learn more about Apple's new pal in the meantime.


---
About the Author:
Doug is a staff writer for InternetFinancialNews, SearchNewz, WebProNews, and SecurityProNews.
---
---