Angry Birds Lands Rovio $42 Million In Funding

By: Mike Sachoff
2011-03-11

Rovio the company behind the popular Angry Birds game, said today it has raised $42 million in Series A investment to help it expand.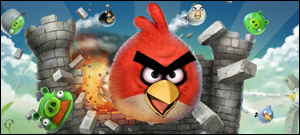 Currently, Angry Birds is played by 40 million monthly active users, and Rovio says the game has grown from an App Store success to become one of the most popular games in just over a year.

The funding round was co-led by Accel Partners, the venture capital firm known for working with companies including Facebook, Groupon and AdMob, and Atomico Ventures, the venture capital firm created by Skype co-founder Niklas Zennstrm. Leading super angel fund Felicis Ventures also participated.

Niklas Zennstrm, who also co-founded Kazaa and Rdio, will be joining the board of Rovio.

Rovio has plans that the investors endorse and will facilitate. The investment will transform Rovios growth, allowing it to increase its reach internationally, and across markets including mobile, social media and other platforms, and via merchandising and media production and partnerships.

With Angry Birds, we have successfully launched not only a strong new brand, but also a whole new entertainment franchise, said Mikael Hed, CEO and co-founder of Rovio.

Angry Birds will continue to grow, and we aim to create more similar success stories. We will strengthen the position of Rovio and continue building our franchises in gaming, merchandising and broadcast media.

Rovio has been expanding steadily through 2010 and 2011, and has 50 employees in Espoo, Finland. Currently, Rovio is expanding Angry Birds to even more gaming platforms and forms of media. The company earlier announced plans to roll out an online Angry Birds experience towards summer 2011, as well as developing Angry Birds games for all major consoles later in the year.


---
About the Author:
Mike is a staff writer for WebProNews. Visit WebProNews for the latest ebusiness news.
---
---