Cisco WebEx Buy Could Quickly Crater

By: David Utter
2007-03-16

A router intensive application like WebEx video conferencing may drive more sales of Cisco's signature networking hardware, but a newcomer to the field of broadcasting content online may lessen the need for brand new routers around the Web.



---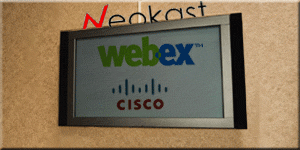 Cisco will plunk down about $57 per share for WebEx. The deal should work out to be in the neighborhood of $3.2 billion once everything is said and done. WebEx shareholders launched the stock's price to $56.45, up from an open of $46.20, once the agreement became public.

The most direct way to summarize how WebEx would benefit Cisco is to take a look at what Cisco does well. It dominates the router market; the Internet connection bringing this article to the browser likely crossed through at least one Cisco product during the trip.

Using WebEx means demanding more from that hardware, as long-time tech industry pundit Robert X. Cringely noted in his recent column. Video conferencing demands will spur people to purchase new routers so they can enjoy the best of WebEx and save travel costs at the office.

Video was on Cringely's mind as he recounted the early times of the Internet. He mentioned how Robert Kahn and Vint Cerf had figured out multicasting would enable people to watch broadcast content. Many hosts could share one multicast address and see the same broadcast.

"A decade ago Cisco Systems bought Judy Estrin's Precept Software and its IPTV video product specifically to throw television on the web and hopefully encourage admins to turn on multicast support," said Cringely. "No such luck."

Those prudent admins may end up leaving multicasting off anyway. Neokast, a technology developed by Northwestern University Ph.D candidate Stefan Birrer, uses P2P technology to "effectively emulate a multicast experience," according to Cringely.

The technology will be debuted at Jeff Pulver's 'Video on the Net' conference next week. Implications for what Neokast could enable, particularly with video, may end up making Cisco's WebEx deal look like Yahoo's $5+ billion acquisition of Broadcast.com:



For content creators this is key: the more people who watch your Neokast the more efficiently will your server bandwidth be utilized. According to Birrer, under normal circumstances the server bandwidth should plateau at 3-4 times that of a single stream NO MATTER HOW MANY VIEWERS ARE BEING SERVED. With a per-stream bandwidth of 700 kilobits per second, this means that Neokast would never require more than a continuous three megabits per second of server bandwidth per video channel.

Let's put that in a real-world context. Three megabits per second is almost precisely 1000 gigabytes per month, which is half the allotted monthly throughput for a $6.99-per-month web site at 1&1. So if Neokast's claim is valid, it would be possible to broadcast American Idol or the Super Bowl or friggin' CNN worldwide for $7 per month.

Heck of a deal, eh?


It certainly would be.

View All Articles by David Utter




---
About the Author:
David Utter is a staff writer for InternetFinancialNews and WebProNews covering technology and business.
---