The Internet Teams Against YouTube

By: David Utter
2007-03-22

Online video and Big Media content will merge with potent brand name advertisers as two YouTube foes will take on Google's video sharing site with a competitive offering.



---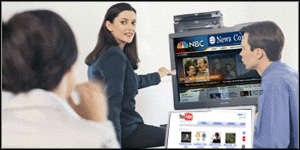 Advertising and full-length content should figure prominently as News Corp and NBC go forward with their plans to offer online video that, unlike the enthusiastic fan uploading taking place on YouTube, will arrive on the Internet with corporate blessings and ads attached.

Cisco, General Motors, and Intel are among the early advertisers announced by News Corp in its statement about the service. Their distribution channel spans what they tout as 96 percent of the monthly unique US users on the Internet: AOL, MSN, MySpace, and Yahoo will carry the content.

Yahoo CEO Terry Semel made a comment that also took a swipe at YouTube and its owner, Google, in the announcement. "We believe that this relationship underscores Yahoo!'s respect for content owners and copyrights," he said, relating the popular view among Big Media that YouTube does not.

An AOL spokesperson commented about the relationship, considering that Google owns five percent of AOL thanks to the billion-dollar investment Google made to fend off Microsoft from reaching an agreement with them.

"Our goal is to provide the largest number of video assets to our audience of more than 100 million unique visitors a month," the spokesperson said. "Just as we continue to work closely with Google in search and other areas, we also work closely with other partners."

Video continues to increase in importance for Internet users. ComScore's Video Metrix said that in January in the US, there were nearly 123 million unique video streamers and downloaders who viewed 7.2 billion videos online.

That typical video streamer averaged almost two videos per day, and viewed 151 minutes of online video each month, according to comScore's report.

---





Tags: NBC, News Corp, Online Video, AOL

View All Articles by David Utter




---
About the Author:
David Utter is a staff writer for InternetFinancialNews and WebProNews covering technology and business.
---
Dow
14066.01
91.70
(0.65%)
Nasdaq
2780.32
46.75
(1.68%)
S&P 500
1557.59
14.75
(0.95%)
---