Online Travel: Expedia Soars, Travelocity Sells

By: David Utter
2007-03-30

A $4.5 billion deal will take Travelocity's parent company Sabre Holdings private; Expedia should show strong growth as their advertising efforts hook in their audience.



---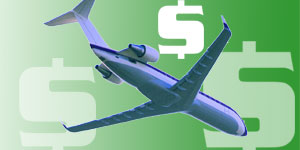 The summer travel season begins shortly in the United States. Gas prices have been edging upwards in recent weeks, but those increases may be offset by news from the Bureau of Economic Analysis. Their latest personal income report found February's numbers rose 0.6 percent, by $65.4 billion; disposable personal income rose $53.8 billion, or 0.5 percent, for that month.

Continuation of that trend may benefit the online travel industry. Companies like Expedia and Sabre Holdings (parent of Travelocity) are taking different flights to get to where they want to go in the industry.

Expedia has been advertising heavily, especially in Europe where low-cost options like RyanAir and easyJet exist. "We believe Expedia is seeing a positive reaction to its new advertising campaign, launched February 26," Internet analyst Marianne Wolk of Susquehanna Financial Group said in an email.

Wolk also noted that technology investments by Expedia should begin to bear fruit in the near term. Those "should deliver better conversion rates, marketing efficiency, and other cost savings," she wrote.

"In addition, we continue to see Expedia putting its strong free cash flows to work towards incremental share repurchases and/or strategic acquisitions."

Travelocity is heading to the private sector, as the negotiations between Sabre Holdings and a pair of buyout firms (Texas Pacific Group, now called TPG, and Silver Lake Partners) wrapped up with a $4.5 billion deal. BusinessWeek said Sabre shareholders approved a deal that brings them $32.75 per share and the assumption of some $550 million in Sabre's debt.

Part of the deal includes a peace offering to shareholders. If the new ownership flips Sabre, by selling either 60 percent of it, or selling its Travelocity unit, within six months, the former shareholders would share a quarter of the profits.

That mollified shareholders and their lawsuit against Sabre leadership for seeking a sale. Shareholders thought a quick flip of either Travelocity or Sabre as a whole would leave them on the sidelines while the equity firms and Sabre executives profited.

---





Tags: Travelocity, Expedia

View All Articles by David Utter




---
About the Author:
David Utter is a staff writer for InternetFinancialNews and WebProNews covering technology and business.
---
Dow
13090.86
-30.49
(-0.23%)
Nasdaq
2521.30
0.00
(0.00%)
S&P 500
1447.12
0.00
(0.00%)
---