ACS Offer Increased Amid Testy Discussion

By: David Utter
2007-04-26

Affiliated Computer Services (ACS) chairman and founder Darwin Deason has boosted the bid to $6.1 billion for the company, but the board of directors has proved reluctant to run with his offer.



---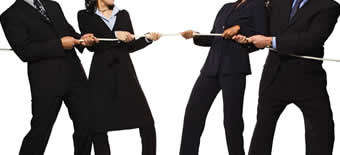 The $62 per share offer from Deason and Cerberus Capital Management, Deason's investment partner, arrived as a month passed without much of a response from the technology outsourcing company. Deason has become increasingly frustrated with the delays.

"The special committee has refused to negotiate with us, to permit Cerberus to conduct essential due diligence or to engage us in any constructive fashion," Deason said in a letter excerpted by Reuters.

One ACS board member expressed concerns that Deason's chumminess with Cerberus, along with Deason's demands for exclusivity in negotiating, doesn't benefit ACS:

"How would you expect potential bidders to react to your group, in an open and public setting, having an exclusive ability for a month or more to access company information and negotiate with the company," Holland said in his response.

Computer Business Review said the sticking point of exclusivity would persist. ACS does not believe a better offer will come along one a merger agreement with a private equity buyer is in place.

ACS has had to deal with stock option problems over the past year and a half. One-time ACS CEO Jeffrey Rich was profiled in a Wall Street Journal report on the options issue.

"In a striking pattern, all six of his stock-option grants from 1995 to 2002 were dated just before a rise in the stock price, often at the bottom of a steep drop," the report said. Rich resigned from ACS in 2005.



View All Articles by David Utter




---
About the Author:
David Utter is a staff writer for InternetFinancialNews and WebProNews covering technology and business.
---
Dow
14043.73
-22.28
(-0.16%)
Nasdaq
2787.37
0.00
(0.00%)
S&P 500
1552.58
0.00
(0.00%)
---