Internet Ad Revenue Neared $5B For Quarter

By: David Utter
2007-06-07

The first quarter of 2007 saw online ad spending reach $4.9 billion, 26 percent more than the same period last year.



---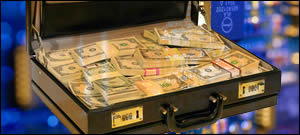 Q1 2006 looked pretty good at $3.8 billion in advertising revenues. But the Interactive Advertising Bureau has its latest report on the financial state of Internet ads, and the numbers look even better for Q1 2007.

Advertisers spent slightly more in the first quarter of 2007 than they did in the holiday period of the fourth quarter of 2006. A 2 percent increase from '06 to '07 saw that spending rise from $4.8 billion to $4.9 billion.

IAB President and CEO Randall Rothenberg said online advertising "reaches consumers with an unprecedented level of efficiency and measurability that provides marketers with actionable data."

Evidence of that appeal comes in what has been traditionally a slow quarter for online advertising. David Silverman, partner, Assurance, PricewaterhouseCoopers, said the spending demonstrates the growing significance of interactive advertising to the overall advertising and marketing industry."

Interest in that spending has elicited ad firm acquisitions in and outside the Internet industry. Smaller deals by Yahoo for Right Media and WPP Group for 24/7 Real Media were dwarfed by Google and Microsoft.

$3.1 billion will go to 's private equity owners from Google for the third-part ad server. Microsoft quickly topped that by going all-in with $6 billion for aQuantive's properties, including ad serving and web design.



View All Articles by David Utter




---
About the Author:
David Utter is a staff writer for InternetFinancialNews and WebProNews covering technology and business.
---
Dow
13090.86
-30.49
(-0.23%)
Nasdaq
2521.30
0.00
(0.00%)
S&P 500
1447.12
0.00
(0.00%)
---